Trainings and seminars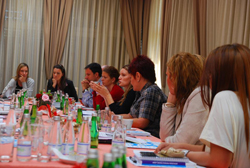 As a separate program unit, NGO Atina organizes trainings and education for professionals from different fields in order to strengthen the capacity of institutions and organizations to provide adequate support to identified victims of human trafficking.
In cooperation with the OSCE Mission in Serbia, during 2009, 2010. and 2011, Atina organized a series of trainings that aimed at strengthening the capacities of local communities in the identification, referral and protection of victims of human trafficking. Police officers, as well as employees of the Social Welfare Centres in Pcinj, Bor and Raska district were trained, and on that occasion 157 employees, who are directly in contact with the victims of human trafficking through their work, underwent training.
In 2011, a training program "Social Welfare Centre in the protection of victims of human trafficking" was developed, and it is accredited by the decision of the Accreditation Committee of the Institute of Social Welfare. The program is supported by the Joint program to combat human trafficking, and representatives of Atina and of the Ministry of Labour and Social Policy, among others, took part in its creation and execution. The training was aimed at strengthening social welfare centres to deal with solving the issues of human trafficking and was aimed at improving the knowledge and skills of professionals, which are necessary for the protection of victims. The training covered 72 Social Welfare Centres from the territory of Serbia, and a total of 227 employees have been trained to use the most effective and efficient way in dealing with cases of human trafficking, and also to have preventive effect on the recognition of, and response to, the protection of victims of human trafficking. 
As a part of the process of strengthening the capacities of institutions, NGO Atina participates in programs of research and analysis of the phenomenon of human trafficking, national policies, as well as the presentations of possible mechanisms and policies of best practices in the field of social inclusion, through the creation of brochures, manuals and other educational and promotional materials. From years of experience, arising out of direct work with victims of human trafficking, NGO Atina constantly points out the necessity and importance of involvement of the state and its institutions in order to facilitate timely, effective and systemic protection and support to those who have been victims of flagrant violations and cancellations of basic human rights. Programs that provide safe housing, psychological, medical and legal protection, as well as other activities to help victims, are still funded by international donors.