Bazaar "For the Brave": Refugee and migrant women and girls mark the International Women's Day in Bosilegrad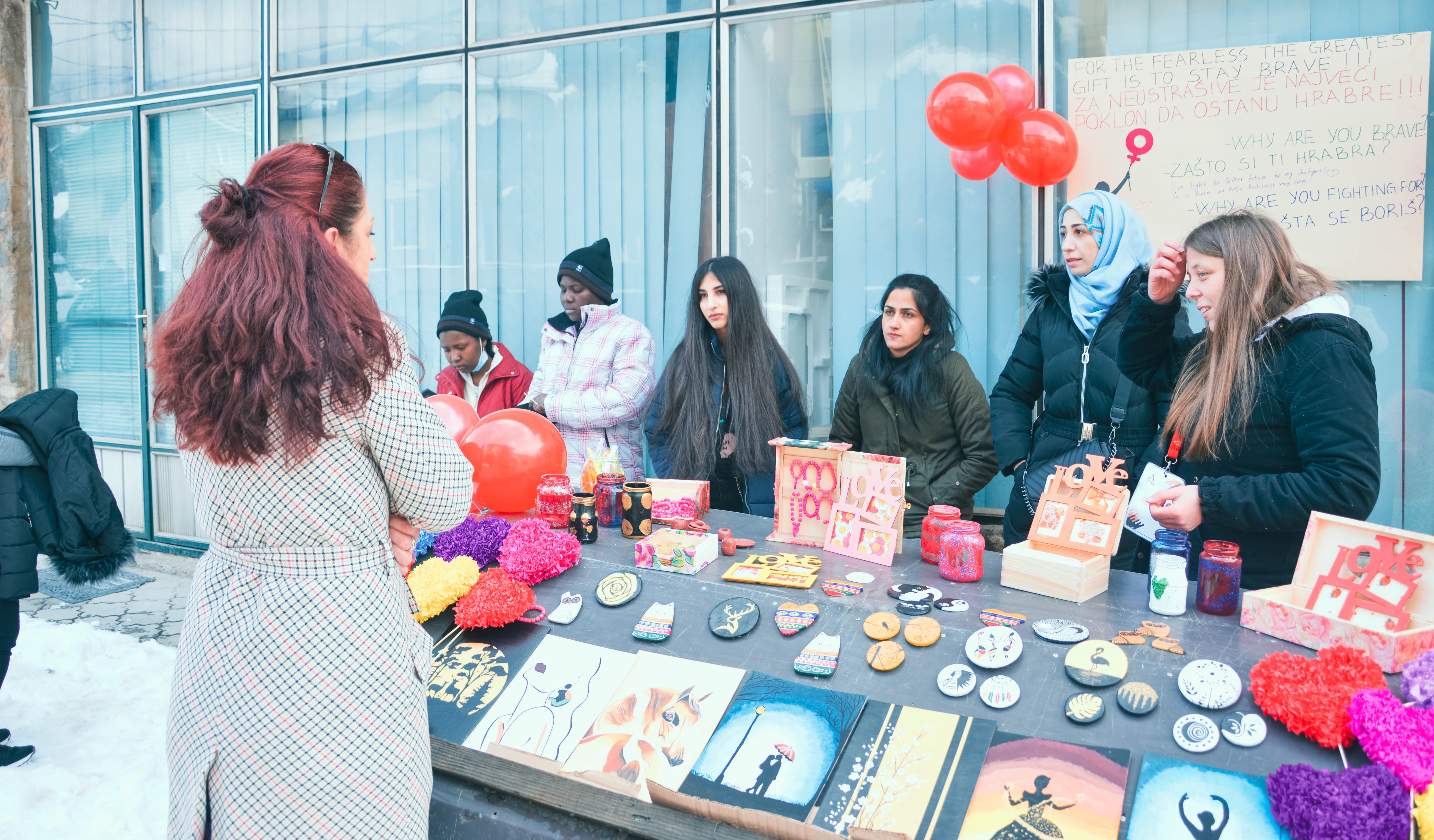 Bazaar "For the Brave": Refugee and migrant women and girls mark the International Women's Day in Bosilegrad
On the occasion of marking March 8, the International Women's Day, sales bazaar called "For the Brave" was organized with girls and women refugees and migrants accommodated at the reception center in Bosilegrad. The aim of this event was to promote women's entrepreneurship, togetherness and solidarity, as well as to open the way toward acceptance of cultural differences. In front of the building of the municipality of Bosilegrad, girls and women from this center gathered and invited citizens, activists, and representatives of international organizations to send a message about the importance of courage and solidarity, acceptance of diversity, and mutual support of all women and girls. The event was organized by organizations Atina and Save the Children, which have, for years now, been making significant efforts to improve the position of "girls on the move", especially by providing direct assistance and support tailored to the needs of this vulnerable group. The event itself was realized within the project "Pippi of Today" and is related to advocacy activities aimed at improving the position of these girls. The project is supported by the Swedish Save the Children and it relies on the ideas proclaimed by the most famous literary heroine of the Swedish writer Astrid Lindgren, the girl Pippi Longstocking.
The idea of ​​the bazaar came from the need for women and girls to present themselves to the local community, to show their talents, but also to point out that women from different cultures and backgrounds continuously connect around the same topics, and those are the struggle for equality, and equal access to rights and resources.
"I want to show my talent to the world, I don't want to be just a refugee, I am so much more than a single identity," said Meena, a 20-year-old from Iran, explaining her inspiration to take part in the action. "Today in Bosilegrad it is minus 8 degrees, it is snowing, but many people have joined us, which means we have sent a message that we are brave and strong despite the circumstances we found ourselves in."
Girls and women from Iran, Burundi, Afghanistan and Serbia handed out hand-made messages to passers-by to remind them that they are strong and brave. All women and girls had the opportunity to write on a joint poster why they are brave and what they see as their greatest strength.
"The fight for the rights of women and girls must never stop, we must conquer our freedom every day" - this is one of the messages from this event.
The Bazaar "For the Brave" was attended by representatives of other organizations, women from the local community, but also other allies in the fight for equality.
After this activity, women and girls had an organized day outside the reception center, filled with content that they chose, which for them was an additional celebration of this important day.