Marijana Savić - woman of the month in Elle magazine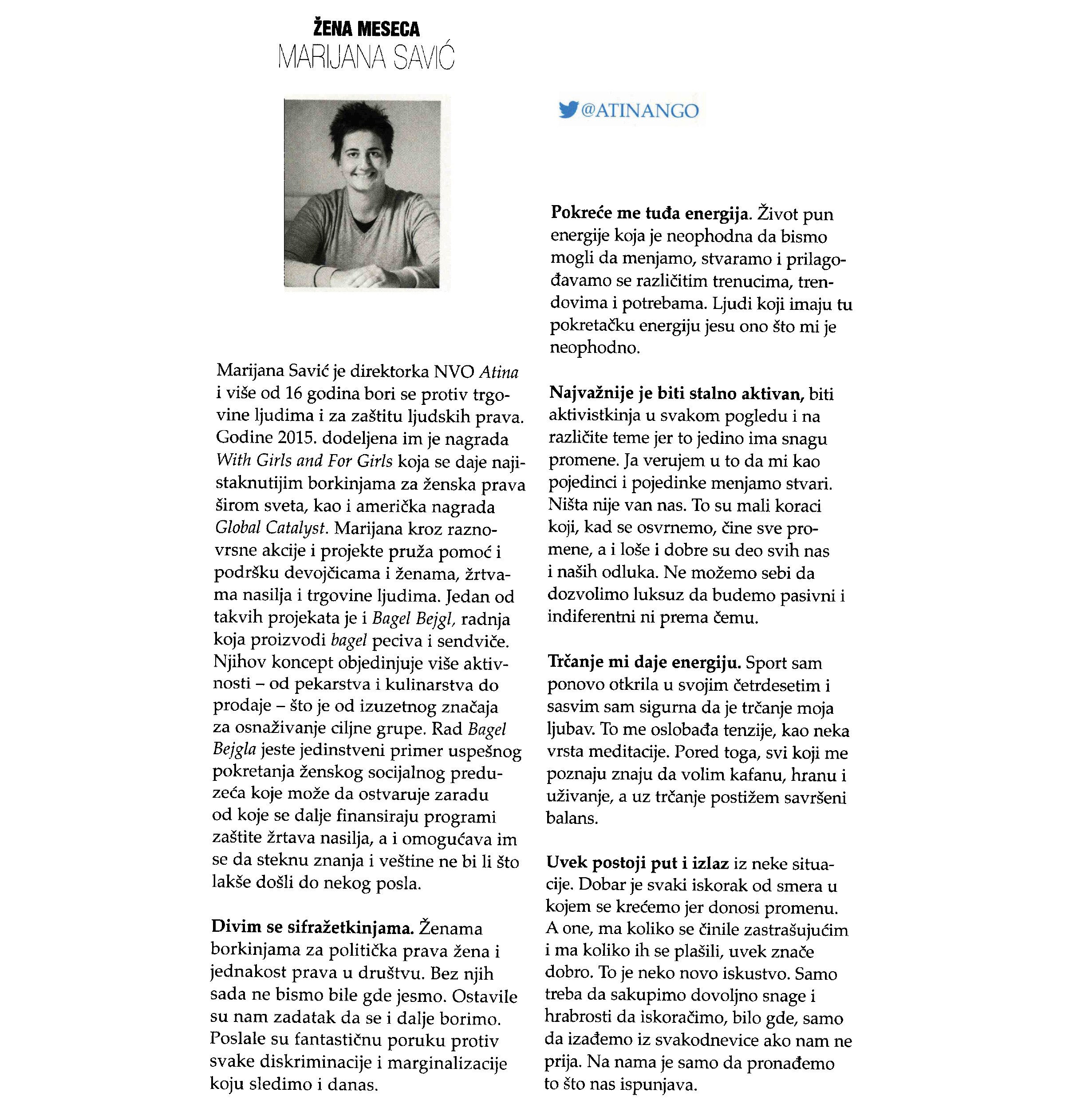 Marijana Savić is a directress of NGO Atina, who has been dedicated to fight against human trafficking and protection of human rights for more than 16 years now. In 2015, they received With and For Girls Award, which is awarded to the most prominent fighters for women's rights across the globe, as well as the American Global Catalyst award. Through various actions and projects, Marijana provides assistance and support to girls and women, victims of violence and human trafficking. One such project is Bagel Bejgl, a shop that produces bagel pastries and sandwiches. Their concept combines several activities - from bakery and cookery to sales - which is of utmost importance for the empowerment of their target group. Bagel Bejgl shop is a unique example of successful start-up of a women's social enterprise which can make profits and thus fund the programmes for the protection of victims of violence, and also enable them to acquire knowledge and skills so they can find employment more easily.
I admire suffragettes. Women fighters for the political rights of women, and equal rights in the society. Without them, we wouldn't be where we are today. They left us a mission to keep fighting. They have sent an incredible message against any form of discrimination and marginalisation, which we are still following today.
I am energised by other people. Life full of energy which is necessary for us to be able to change, create and adjust to different moments, trends and needs. People who have that kind of driving energy are who I need beside me.
The most important thing is to be active constantly, to be an activist in all respects and in various fields, because that is the only way to achieve the power of change. I believe that we, as individuals, are changing things. Nothing is beyond us. Those are small steps, but when we look back we realise that they made all the changes, and both good and bad ones are part of us all and of our decisions. We cannot allow ourselves the luxury of being passive and indifferent toward anything.
Running gives me energy. I have rediscovered sports in my forties, and I am quite sure  that running is my love. It helps me relieve tension, as some form of meditation. Besides, everyone who knows me knows that I love pubs, food, and enjoyment, and running helps me achieve a perfect balance.
There is always a path and a way out of a situation. Every step away from direction we are heading in is good, because it brings a change. And those changes, no matter how terrifying they seem or how scared we are, always represent something positive. It is a new experience. We just need to gather enough strength and courage to step in any direction, as long as we are moving out of the everyday life that does not suit us. It is up to us to find the things that fulfil us.
In Belgrade, on May 2016