Third of the victims are children, we will do everything to eradicate "modern slavery" in Serbia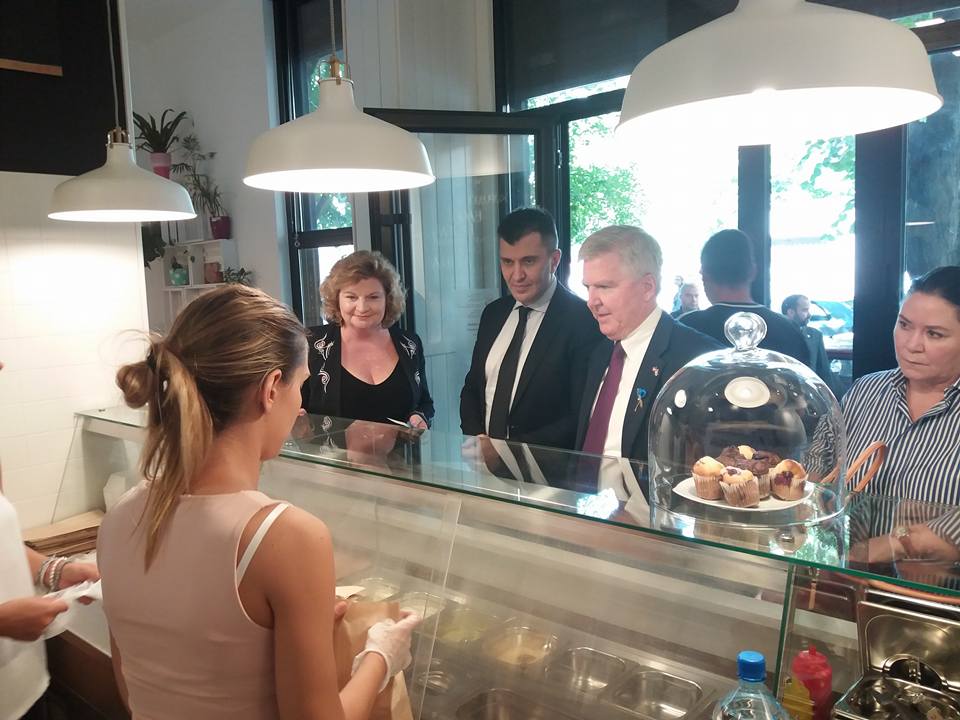 Today, on the occasion of the World Day against Trafficking in Persons, US Ambassador to Serbia, Kyle Scott, and Minister Zoran Djordjevic visited the social enterprise of Citizens' Association Atina, Bagel Bejgl shop, whose profits are financing recovery programs this organization runs for the victims of human trafficking.
US Ambassador Scott has underlined that human trafficking is a global phenomenon, and that there is no country in the world that is not faced with the issue of modern slavery.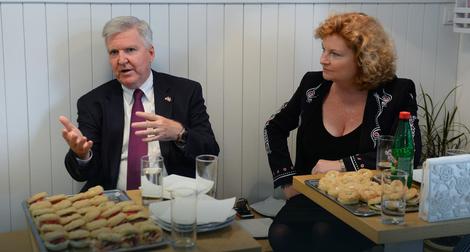 According to his words, the most tragic fact is that more than 30 percent of the victims of human trafficking are children, while women and girls are victims in more than 70 percent of the cases.
"That phenomenon is horrific, and Association Atina is a true hero in the fight against human trafficking, as it helps victims start a new life," he said in a statement to Tanjug.
He said that they have not chosen this organization as a focus on World Day against Trafficking in Persons by chance, as Atina has contributed greatly to the cause, and the Embassy is determined to help.
"We are partners with the Association Atina, but also with the Ministry of Labor, Employment, Social and Veteran Affairs, Ministry of the Interior, and Ministry of Justice, as each institution has its role in the prevention of human trafficking," he said.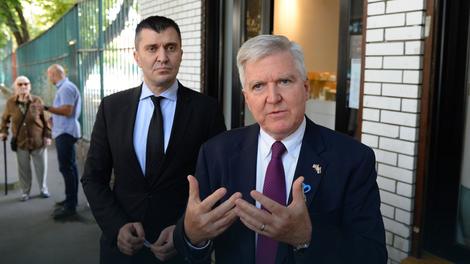 Djordjevic: We do not want modern slavery in Serbia
Minister Djordjevic pointed out that Serbia is doing everything possible, and will continue with the efforts in combating human trafficking.
He added that he hopes to have more resources for this cause next year.
"Modern slavery must be eradicated. We do not want Serbia to be one of the countries where modern slavery is present," said Djordjevic.
He also pointed out that an aggravating circumstance for Serbia lies in the fact that it is one of the countries on the migrant route, as that increases the risk of human trafficking.
Djordjevic underlined that there are modalities and examples of good practice in the world and Europe on how to effectively fight against human trafficking.
Court proceedings take a long time
Head of the Association Atina, Jelena Hrnjak, said that she has informed their guests about the recommendations Serbia should implement in order not to remain on State Department's Watch list regarding this issue.
She said that these recommendations are related to the adoption of the National Strategy and Action Plan, and improvement of the identification of victims, which is practically lower now than it was before.
There are also, as she stated, various issues related to criminal prosecution, and the protection of victims in court, as they are still being intimidated during the court proceedings.
"They have to confront the traffickers numerous times, and the court proceedings take a long time, although certain efforts have already been made in the right direction. That is what we want to change. More work needs to be done on the economic empowerment of women and girls who have survived this form of violence, through providing an opportunity them an to develop and become independent, with the education being one of the aspects of this process which requires improvements," explained Hrnjak.
For NGO Atina, text translated by Marija Pantelić
The original text can be found here: http://www.blic.rs/vesti/drustvo/djordevic-i-skot-o-trafikingu-trecina-zrtava-su-deca-ucinicemo-sve-da-u-srbiji-nemamo/lb4907v
Photographs made during the visit can be found here:  http://atina.org.rs/sr/tre%C4%87ina-%C5%BErtava-su-deca-u%C4%8Dini%C4%87...
Representative of Atina Jelena Hrnjak gave the statement to the agency Tanjug https://www.youtube.com/watch?v=Wj9_XhXNa60