TikTokers who promote science speak of threats and insults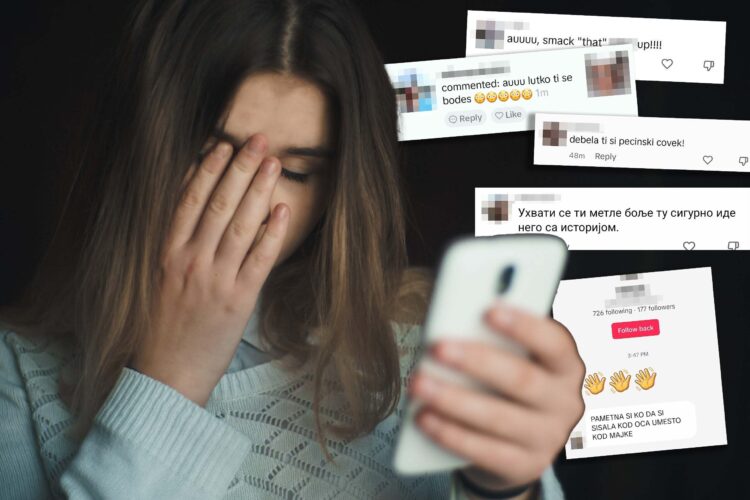 Attacks on women in Serbia who promote science on TikTok 
NEWS Author: Filip Rudić, August 6, 2023 20:30
TikTokers who promote science spoke for N1 of threats and insults they have been exposed to on this social network
Anja Gretić is a student who educates her followers about history on her TikTok profile under the nickname victorian__child. When she saw a video clip on that social network about the Battle of Kosovo mixing facts with folk songs, she posted a video in response, explaining the difference between tradition and history.
And then, she says, a "burst" of virtual violence happened - people began to abuse her mentally, and send messages both privately and in comments.
"Nobody deserves such insults. It was not a debate, more like - 'we will kill you', followed by the way they would kill me, messages 'you are disgusting', even threats of rape. It had happened before, but now several hundred people attacked me," said Gretić for N1.
Among the comments sent publicly were "Kill yourself, freak", "You look ret*rded", "Get back to the kitchen" and many others.
She has been experiencing attacks since opening the profile, but the last "wave" was intense.
She believes that the attacks were coordinated and points out that she is not the only one who receives such responses to videos dealing with scientific facts.
In a research conducted last year by NGO "Atina" among high school girls, 18 and 19 years old, 53.2 percent of them stated they had survived digital violence or knew a girl who did.
Zorana Parezanović from NGO "Atina" says that cases of organized, group attacks on women and girls have been noticed, and were coming from different sides, even from groups that had 30 or 40 thousand followers.
As Parezanović says, most of the girls who participated in the research do not feel safe in the digital space at all, especially not in comparison to their peers, boys.
"There is a constant fear of that, great distress and anxiety that they could be the target of some form of digital violence," Parezanović told N1.
Girls expect that violence and judgement will occur "if their behavior is not in accordance with what is imposed as the social norm or the expectation that goes with the role of a man or a woman," she said.
Digital violence did not miss Tijana Prodanović, a professor at the Belgrade Faculty of Science, who educates more than 55,000 of her followers about physics and the cosmos.
"As for people who engage in scientific communication on the networks, as I do, when it comes to women, insults are most often at the expense of physical appearance, and then at the expense of intelligence... I have experienced all this myself," Prodanović, whose scientific field is astrophysics, told N1.
She says that science communicators on YouTube channel often opt for a format where their faces are not visible and where their gender is not obvious.
When asked what kind of content attracts offensive comments, she says that basically there are no rules, although for example, a topic like the origin of the universe attracts a lot of religious comments, the story about the Moon a lot of conspiracy theorists, and the like.
She says that, although she is an adult with extensive experience in both science and scientific communication, and has been on social networks since their beginning, she is not completely immune to digital violence.
"It always affects you. Sometimes I have the strength to turn such attacks into something good, to use some positive comment to try and set an example for young people in the same space on how to deal with such comments," she added.
However, young people, especially minors, are much less resilient to such comments and digital violence.
"That's why I think it's very brave of all young 'content creators', especially girls, to engage in something like that and expose themselves in that space in a desire to offer some quality, especially educational content, and I hope that we adults can provide them with adequate support in the fight against digital violence," Prodanović said.
Anja Gretić believes that the problem has become serious and that it is happening more and more.
She says that she is thinking of reporting digital violence to the police, but she does not know what their response would be. In the meantime, she blocks profiles that insult and threaten her, but "they just keep appearing and it continues".
"I am a person who struggles with diagnosed high anxiety precisely because of such things, I was also suicidal because of it and that puts a lot of pressure on me," Gretić said.
Zorana Parezanović from NGO Atina says that the recommendations for institutions are - willingness to admit that if violence occurs in the digital space, it is still violence.
Given that there are many forms of violence and abuse in digital space, such as doxxing, cyber abuse, cyber bombing, catfishing... it is important to recognize them all, so that we can somehow legally regulate them and determine sanctions, says Parezanović.
On the other hand, we need to form a system that will provide support to victims who suffered such violence, she said.
"When we talk about the victims themselves, there is a lack of systemic support, above all there is a lack of understanding. It often happens that victims are not believed," said Parezanović.
As she says, it is also necessary to inform ourselves and understand what violence is, work on ourselves, on our environment, within communities, work on the issue of gender stereotypes and prejudices.
"If we don't work on all these things, violence will definitely happen, and we see that the mechanisms for its sanctioning do not work properly, especially when it comes to violence in the digital sphere," said Parezanović.
The original text can be read via the following link: https://n1info.rs/vesti/ubij-se-nakazo-napadi-na-zene-u-srbiji-koje-promovisu-nauku-na-tiktoku/