TRANSITION HOUSE – the life within life
Today, March 8, 2018, in the light of the announcement that NGO Atina has become licensed to provide the service of assisted housing intended for girls and women - victims of human trafficking and various forms of exploitation, we would like to present the program of Transition House through the lense of our beneficiaries, partners and Atina's activists involved in this program on daily basis.


Transition House is a pivotal program of NGO Atina providing not only housing but a long term support to women and girls who have survived human trafficking or other forms of exploitation. The methodology of our work is described in details in the publication Social Inclusion of Victims of Human Trafficking. During all these years, 302 women and girls have found their shelter within this house which has, since its establishment, remained the only space in Serbia that offers such specialized accommodation form. Today, many of these women and girls live their fulfilled lives independently, and this service has provided them an opportunity to choose and exit the situation of violence.
Although the state has recognized the need to provide safe accommodation service, and on several occasions announced the opening of a safe house, this has not happened to date. During all these years, Atina has been managing to keep this program running, overcoming various issues, in order to provide women the opportunity to enter the recovery process and escape the violence they suffered.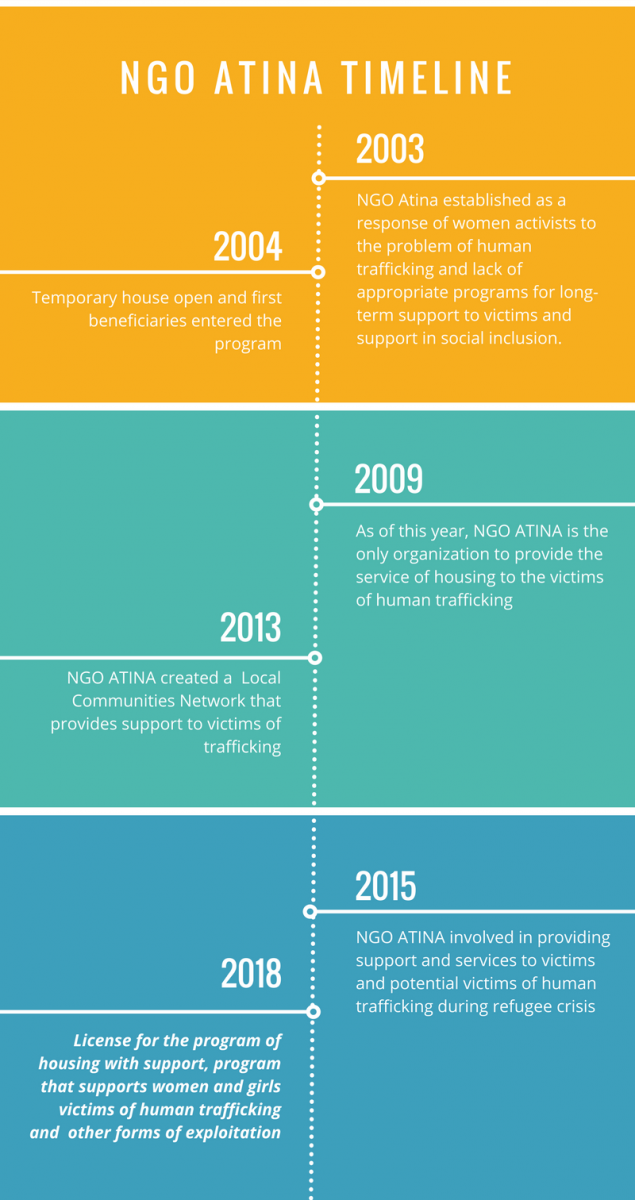 The driving force behind the program of Temporary safe house are women working daily to cater all needs of our beneficiaries and women who have  courage and strength to fight the violence in  their lives.
Atina means so much to me. During my stay in temporary house, I felt really great. I felt good, it was my home. I always had where to turn to and I knew I could stay there.
While I was in temporary house, I also had reentered  high school. I had studied there, attended jewelry workshops. I have learn to make jewelry, I did not know it before, and later I even led workshops. For me, I don't know how to express it, but everything was the best, it meant a world to me. If Atina was not there to help me, I have no idea where I would be today - probably nowhere. It meant a world to me that I had a roof over my head, school, occupation. I literally had everything in safe house. I stayed there for a while, because I felt great. And I am really satisfied.

Beneficiary of Atina since 2010
We are working on this program for a long time, we are in it 24/7, and when you step aside and realize that there is nothing similar, that is terrifying. Our main challenge is to maintain this program. Women in our program have been through so much, so challenge is also to make the proper first contact, to resolve various obstacles within themselves, and outside. The challenge is to organize life in a house among different women and to make sure that relations are supportive. Sometimes it feels like life within life, as some special system that you should monitor.
Women and girls we work with are our biggest motivation and inspiration. After we establish the first contact, and we are both terrified at that moment, and after few months you see the progress, that is what gives you wings – to see woman you work with smiling.
Our biggest success is that women and girls we work with see that program as a safe place, the feel acceptance and support. We worked with beneficiary who, after leaving the house, found herself again in potentially risky situation and after she was confronted with the words: You have no one, and nowhere to go... she said: YES, I DO. And she came back to us. Not only that we try to make it  safe place, women feel it as a place where they belong to.

Sanja Kandić, case manager
What quality has this program and Atina's work brought into the field of combating human trafficking? We believe that it is best described by our partners and associates.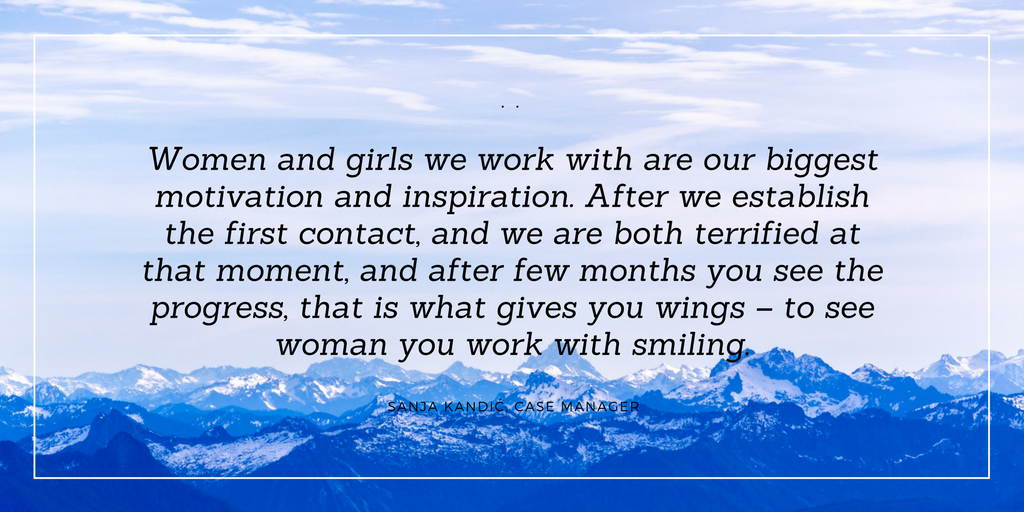 In the beginning there was a group of women prepared to truly invest all necessary energy to help those in need, disregarding working hours and available resources. Women entering the program have been receiving the support they could not get within the system, but unfortunately, not in other organizations as well. That sort of dedication,  logic applied in everyday work – that it is not enough to deal with formal issues, but that true personal support is necessary, as well as personal bonds to women participating in the program - that is something entirely  characteristic to Atina's work.
Having that in mind, big shifts forward are visible. The fact that women participating in the program are still  in touch with Atina is the best indicator of their work. In the context of development it is significant to develop procedures and structures, if that will contribute to better support for more women, but the energy from the beginning is still necessary.

Aleksandra Galonja, M&E and Capacity Development Consultant
I believe that the biggest contribution Atina made to the combat against human trafficking is the fact that they consulted beneficiaries while developing services, and they brought that spirit into entire sector. They put beneficiaries in the center, not the organization. We did not have such experience before Atina, and that is their true quality.
I have to say that I am really glad that I know Atina as organization from the very beginning. They are one of the rare organizations recognized as group and not as a leader, individual. We do know who director is, but the organization is much more important. When we started working together , I was employed at IOM, and  in a way, we supported Atina's establishment. I believe that is one of the most significant moments in my career, where I could say that I have witnessed  the courage, good will and dedication to intentionally enter the field that no one wanted to deal with. That deserved every respect. IOM had recognized that at that time, but pretty quickly Atina has become independent and surpassed all initial plans.
I am glad that today, through my current engagement  and Swiss office for cooperation I can continue to follow Atina's work.

Jovana Mihajlović, Swiss office for cooperation
What does this license mean to Atina?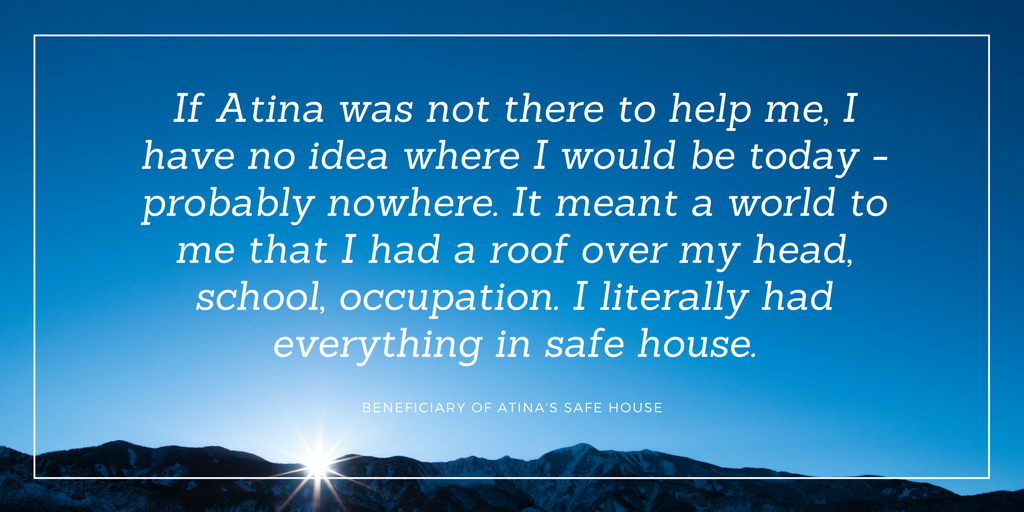 The service of the safe house and long term support to victims of human trafficking, primarily women and girls, is a unique service provided by Atina. It is important to Atina to receive recognition for its past and current quality and successful work, and its  constant improvement.
However, if it is not planned to continually support services for women and girls, and if they are not developed further, this will be another thing without effect in our society. These services should be sustainable in the first place, in order to have effects towards beneficiaries, so the city and the state should allocate the spaces and funds. We are obliged to provide this service in the next 6 years, but we rent apartment from private individual for a monthly rent, we pay various taxes, and we finance necessary training for our staff from our own funding sources, State continues to give priority to the state institutions, but civil society organizations provide services as well. Those are the questions we have to think about, how much are the costs of such service to the state, and how much to civil society organization? Otherwise, we could come in situation to see this service as free, since state is not finding it.
It is a an important step that license is obtained by civil society organization, especially women and feminist organization. We see it as achievement for women's movement and a number of women that finally succeed to deal with the system.

Marijana Savić, director
What is the future of Atina?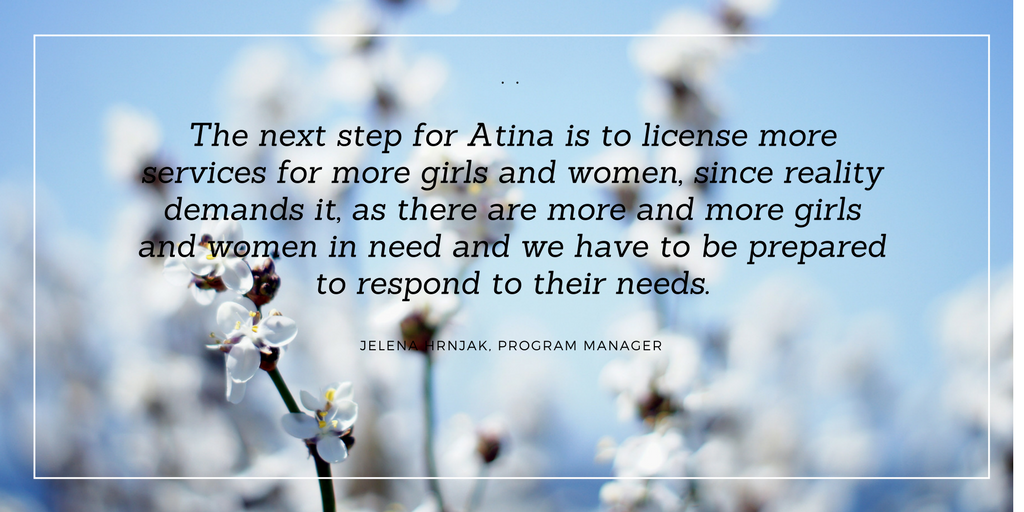 We wholeheartedly and solidarily thank all the supporters of our organization, ideas, and values we stand for!