United States Ambassador to Serbia visited NGO "Atina" and presented important messages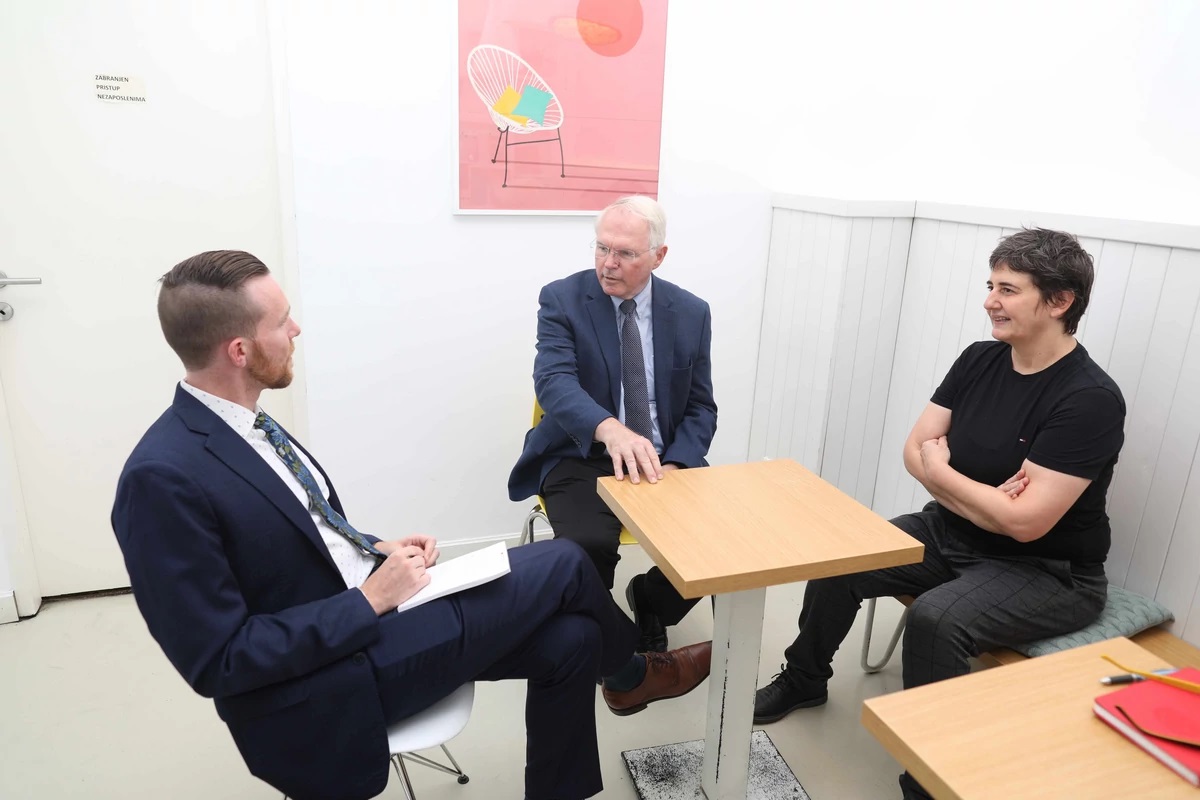 In the photo: Ross Conroy, United States Ambassador to Serbia Christopher Hill, and Marijana Savić
United States Ambassador to Serbia visited NGO "Atina" and presented important messages
NGO "Atina" is one of the key organizations in Serbia which, through a series of direct services and programs, provides assistance to victims of human trafficking, primarily women and children, who are most often victims of trafficking and gender-based violence.
06/08/2023 16:53
PHOTO: PETAR STOJANOVIĆ / RINGIER
"Atina" is the organization that received the assistance of the US Embassy in Belgrade from the Julia Taft Refugee Fund for 2022, for a project aimed at empowering and providing basic services to victims of human trafficking and gender-based violence among the refugee and migrant population.
US support to victims of human trafficking in Serbia
This week, Christopher Hill, United States Ambassador to Serbia visited "Atina", an organization that has for 20 years now been assisting victims of human trafficking and other forms of exploitation to reintegrate into society through its comprehensive social inclusion programs. 
- Above all, it is a great pleasure to be here in NGO "Atina's" space, which is dedicated to providing assistance to persons who were victims of human trafficking, helping them reintegrate into society, find a job and move on with their lives. Also, I am very satisfied with what has been done in that field with the help of Marijana Savić, director of the organization, and that I had the opportunity to see what and how they managed to do, Hill said for "Blic".
The ambassador emphasized that he was happy his colleague and friend's Julia Taft Refugee Fund, had the opportunity to assist NGO "Atina" and their social enterprise "Bagel Bejgl", whose profit is used to finance assistance programs, but also to empower victims.
- Julia Taft was the head of the State Department's refugee assistance program 20 years ago. Unfortunately, she left us when she passed away prematurely due to illness. Certainly, it's nice to be here and see that she still helps a lot of people, and saves their lives - Hill said during the visit to "Bagel Bejgl". 
On that occasion, he also tasted the bagels that are made identically to the ones in the US, which he pointed out are the same as the ones he ate when he was last visiting New York.
State Department on human trafficking in Serbia
Ambassador Hill also referred to the State Department's 2023 Trafficking in Persons (TIP) report, according to which Serbia has been moved from the "Tier 3" to the "Tier 2" watch list.
The report states that the main reason for this is the lack of the Government of Serbia's funding for the non-governmental organizations that are providing assistance to victims of human trafficking. If this trend continues next year, Serbia is at risk of being automatically relegated to a lower level.
- The State Department's Trafficking in Persons Office reports annually to Congress. Every country can improve its work in the fight against human trafficking and Serbia is no exception, bearing in mind the fact that it is necessary to improve it - the US Ambassador said to "Blic".
He also pointed out that the work of NGO "Atina's" social enterprise "Bagel Bejgl" is a firm indicator of commitment that will influence the next report of the State Department's TIP Office.
- Human trafficking is one of those terrible things that no one could have even imagined a century ago. Today, it is one of the crimes that represent a huge problem, above all at the borders, but is not limited to those border areas, and it can happen anywhere. Serbia faces the problems of human trafficking like any other country. It is important that the people of Serbia first of all understand that this is a problem that each of us has to deal with. It didn't exist a few years ago on this scale - Hill pointed out for "Blic".
He referred to the extraordinary work of NGO "Atina", which saved hundreds of victims of human trafficking through its work and helped them get back on the right path, and to have a better life today.
- The first thing that is important to understand is that this problem exists, and that it must be overcome. There are strategies for the fight, funds are available from numerous sectors to help with this, and we are interested and ready to do everything in our power to help, along with our other organizations, so that Serbia becomes one of the leading countries when it comes to solving this problem. Serbia did not choose to be in this place in Europe, but Serbia is where it is and is faced with the challenges of fighting against human trafficking. I am certainly convinced that Serbia will do a great job when it comes to the fight against human trafficking. Organizing the social enterprise "Bagel Bejgl" is just one of the excellent examples how to bring people together to work and earn money for such projects so that they can be further financed - Hill concluded during his visit to NGO "Atina".
All profit is directed toward the assistance programs for human trafficking victims
- NGO "Atina" is the founder of "Bagel Bejgl" in Knez Danilova Street No. 39. This organization has, for 20 years now, through various programs and services, been dealing with the protection of victims of human trafficking, primarily women and children. These programs are safe houses, safe space in the Reintegration Center, provision of psychological and legal assistance, and other forms of support that are necessary for someone to recover and exit the situation of violence, especially violence that occurred through exploitation – director of NGO "Atina", Marijana Savić, told "Blic".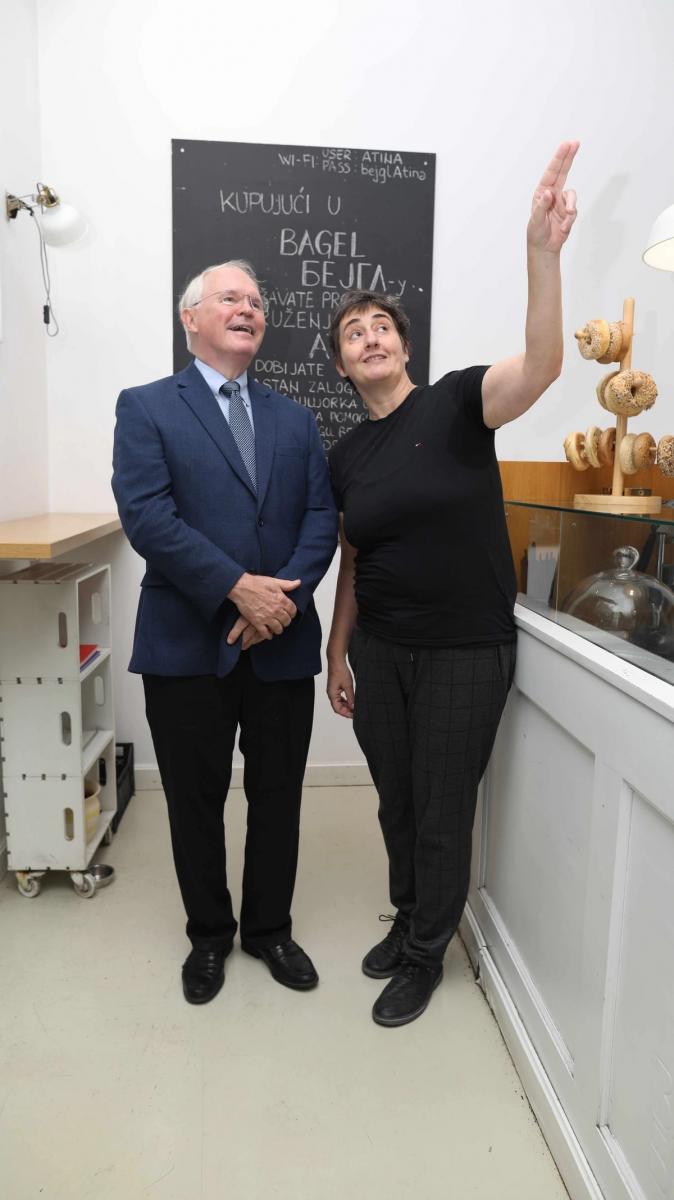 NGO "Atina" has been dealing with the protection of human trafficking victims for 20 years
She explains that the social enterprise "Bagel Bejgl" was founded eight years ago, and that all its profit is intended for programs to assist the vulnerable ones, for financing all those programs that help women and girls who are victims of human trafficking.
- This is a safe space for practice and learning, a form of a training center for all girls and women who would like to continue to work and specialize in the hospitality industry, and in some other industries that deal with food. In addition, we want to offer people this excellent pastry that did not exist in Belgrade at that time, and for our fellow citizens to try this pastry, which is truly perfect. By buying these pastries, people can help eradicate this problem and violence against women - emphasized Savić.
"Bagel Bejgl" is open every day, except Sundays, from 8 AM to 4 PM at 39 Kneza Danila Street.
In addition to the experts' help, financial help is also needed
She pointed out that in addition to the help of experts, they also need financial help from the state.
- Unfortunately, we have not had financial support from the state for the 20 years we have been working. Of course, we have good cooperation with various professionals from state institutions. This problem cannot be solved by only one organization or several institutions. It is necessary for us all to cooperate together - said Savić.
She expects that financial aid from the state will also come in the next period, given the long-term trust and cooperation thanks to which dozens of women who were victims of human trafficking were saved.
- More than 125 women have undergone training here at "Bagel Bejgl", and more than 100 have found new jobs through our economic empowerment program. Through this program of economic empowerment, we also cooperate with numerous private companies that inform us when they have new jobs and positions, and we refer women who are in our center to them - concluded Savić for "Blic".
The original text can be read via the following link: https://www.blic.rs/vesti/drustvo/kristofer-hil-posetio-organizaciju-atina-koja-pomaze-zrtvama-trgovine-ljudima/e8bw2xd