The voice of citizens for democracy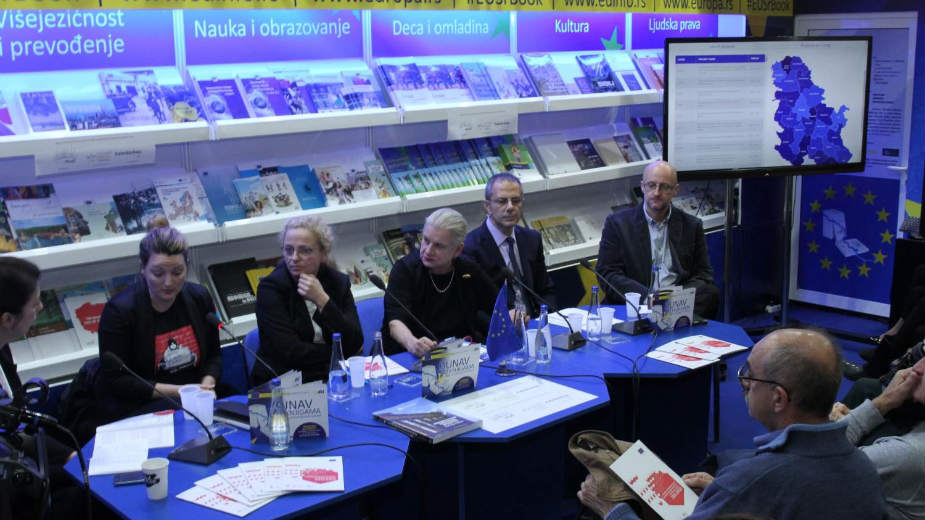 Without the voice of citizens there is no democracy, and it therefore needs to be strengthened; this was announced today at a panel discussion For a stronger voice of citizens: Support of the European Union (EU) to civil society, at the Book Fair
It was noted that, during the past decade, the EU supported about 250 projects of civil society whose aim was precisely to make the problems of citizens more visible.
We support all those who work for the betterment of society, the idea is a better life for everyone, said programme manager of the EU Delegation to Serbia, Svetlana Djukic, adding that the state is financially assisted to improve the environment for the work of non-governmental organizations, as well as civil society organizations themselves.
The Acting Director of the Government Office for Cooperation with Civil Society, Zarko Stepanovic, said that the EU has recognized the importance of the Office and gave the support to strengthen its capacities, but also supported the development of Strategy for Cooperation with NGOs.
According to his words, the Strategy was practically done by civil society organizations, because 400 of them gave their proposals and suggestions.
We want the NGOs to also participate in creation of the Government policy, said Stepanovic.
Thanks to European integration, we have managed to impose some topics, and that is its great value, said programme director of Transparency Serbia Nemanja Nenadic, reminding that European club is entered into through the construction of the rule of law in the community.
He stressed the importance of projects assisted by the EU, because they enable for the occurrences to be followed systematically and long-term.
According to his words, more and more information is being published, related to the work of state bodies, but citizens are not using them sufficiently to control the government's work.
EU is based on skepticism and creation, we are not implementing anything, they are only helping us say what we think, said the Director of the Center for Cultural Decontamination, Borka Pavicevic, referring to the work of the Center.
Currently, there are about 7,000 migrants in Serbia, who are stranded here, all the countries in the region are announcing more and more restrictive policies, and a part of these people will stay here, said programme manager of NGO Atina, Jelena Hrnjak, stating that therefore work on the development of integration program should be started with.
For NGO Atina, text translated by Marija Pantelic
The original text can be found here:
http://www.danas.rs/drustvo.55.html?news_id=330788&title=Glas+građana+za+demokratiju